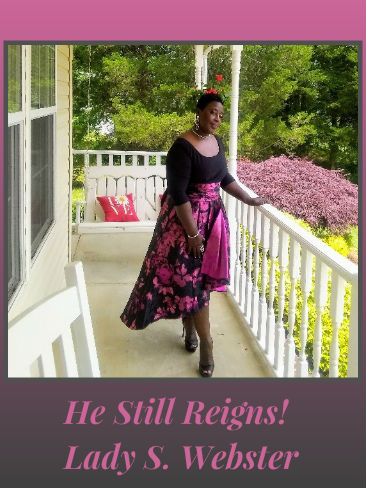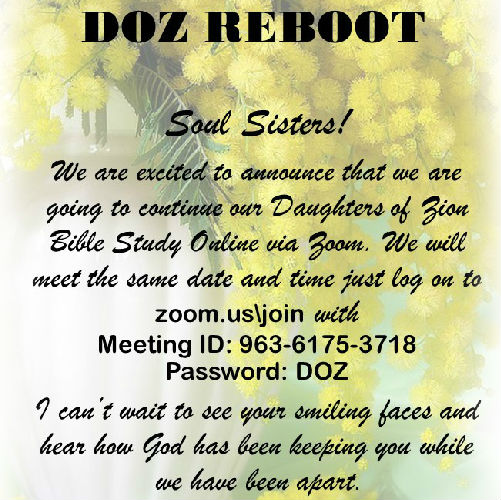 Daughters of Zion


Mission: RBFC Women's Ministry (Daughters of Zion) seeks to encourage women to pursue holienss and unity through and around the Word of God. As women of God we have been called to biblically impact our homes, families as well as our church and community for the glory of God.
Objective:
Our objective is to impact women to walk out and in their God ordained purpose for their lives. We will seek to use our gifts, talents and time to push the Kingdom Agenda through biblical bible studies open discussions, prayer and fellowship Our aim is to build solid biblical relationships and friendships that will impact the Family, church and community one Sister at a tim

e.


We Meet on the 2nd and 4th Saturday of each month from 9 - 10 am. Looking forward to seeing you there!




"Saints of God, let nothing come between your soul and your Savior, because things are temporal.
Our focus should be on the eternal regardless of the lie the enemy speaks in your ear.
Hear this...and stand firm...'Christ is Lord of all and He loves you!"

He Still Reigns!
Message from Lady Sharon Webster


Greetings Soul Sisters,
I along with the D.O.Z. Women's Ministry welcome you to R.B.F.C.

we are excited that our Father has planted you in this part of His Vineyard

to Impact as well as to be Impacted in our walk with the Master and each

other. What an honor to fellowship together in the Grace of our Lord. We

believe that you are not here by chance but by a divine appointment to grow and

bring glory to our Lord. I look forward to getting to know you to be

enriched by your presence as we grow together in this Awesome walk of

Faith.....We are no longer Strangers we are now Soul Sisters

So, then you are no longer strangers and aliens, but you are fellow citizens with the saints and

members of the household of God! 1 Ephesians 2:19" (ESV)


Welcome to R.B.F.C. & D.O.Z.


He Still Reigns!

Lady S. Webster

ladywebster@rbfchurch.com