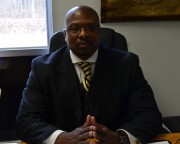 Pastor Kevin L. Webster is the Founder and Senior Pastor of Rooted Bible Fellowship Church in Edgewood, Maryland. Rooted Bible Fellowship Church is a biblically sound church that preaches the gospel of Jesus Christ and stresses the importance of the Kingdom family, kingdom life principles, and kingdom economic empowerment. The foundation of the church is founded upon in Colossians 2:6 – 7.
After enlisting in the United States Marine Corp in 1981, he served four years and afterwards in 1986 he began his employment with the Federal Government at Aberdeen Proving Ground in Maryland.
His Christian walk began in 1988 when he accepted Jesus Christ into his life. Afterwards he became an active member of Shining Star Baptist Church in Chase, Maryland under his Pastor's leadership, Pastor James Johnson. His duties at Shining Star included working with the youth and teaching Sunday school. He later was and installed as an Ordained Deacon and eventually was licensed as an Associate Minister. The Lord spoke to his heart, in 1991, to prepare for ministry and he humbly accepted the call. Pastor Webster immediately enrolled in the Arlington Bible College and worked to receive his Bachelor of Arts Degree in Biblical Studies. He is in the process of completing his studies towards his Master's Degree in Biblical Studies at Philadelphia Biblical University.
In 1997 after much prayer and submission to the will of God, Pastor Webster entered into full-time ministry, taking the position as a Youth Pastor, and in 1998 he served as a Chaplain with the Helping-Up Mission in Baltimore Maryland, a long-term spiritual recovery program for men with drug and alcohol addictions.
In, 1998, he along with 8 families held the first service of Rooted Bible Fellowship Church, in the basement of his home. Today after, 19 years, the church has well over 450 active members. Its campus is host to Lil' Roots Christian Child Care Center, over 40 active ministries, and Urban Impact, a non-profit organization committed to enriching, educating and developing the lives of high risk families, youth and children and recently opened its first Single Women's Transitional Home.
In addition to his pastoral duties, Pastor Webster has on several occasions, facilitated men's retreats, taught at several leadership conferences throughout the country, and is often called upon to preach services and revivals. He is currently the President of the Baptist Ministers and Deacon's Union of Baltimore, Harford and Cecil Counties, a member of the Salem Baptist Association, an active member of the Pennsylvania State Convention and currently the President of Urban Impact and Kingdom Koinonia of Churches.
Happily married to his loving wife, Lady Sharon Webster for 33 years, they have been blessed with four children, daughter-in-law, two son-in-laws, six grandchildren, niece, and three great nephews. The loves of Pastor Webster's life are Jesus Christ, his wife, his family, and the people of God.
Pastor Webster declares that his commitment to his congregation as Pastor is to provide clear and unwavering, biblical leadership to build them spiritually through biblical, expositional and doctrinally and Christ-centered sound teachings. Additionally to provide Godly counseling, correction and instructions. He vows to carry out the vision of God's church. And most importantly to love everyone with the love of Christ promoting Unity and Peace.
"for I determined to know nothing among you except Jesus Christ and Him crucified1 Corinthians 2:2
Rooted Bible Fellowship Church - 1605 Waltman Road, Edgewood, MD 21040 – www.RBFchurch.com